Household rubbish burns at Fareham waste site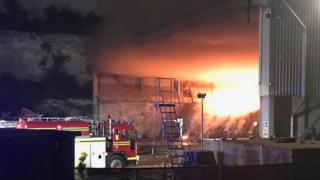 A large fire involving 100 tonnes of household rubbish has been burning at a refuse site near the M27 in Hampshire.
Crews were called to the Veolia waste transfer site in Downend Road, Fareham, shortly after 04:00 BST.
About 40 firefighters tackled the blaze throughout the early hours. The fire was out by 13:15 BST.
Drivers were warned to take extra care because of smoke drifting across the motorway. Residents were also told to keep windows and doors closed.
Drifting smoke also led to a false alarm at a military site in Gosport.
Firefighters from four stations were called to the Ministry of Defence site in Fareham Road shortly after 07:20 BST following reports of smoke.
A Veolia spokeswoman said no-one at the waste plant had been hurt and an investigation into the cause had begun.