Basingstoke police arrest four more over 'targeted' fatal stabbing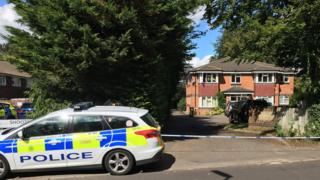 Police investigating a "targeted" fatal stabbing have made four further arrests.
The unnamed victim was found injured at a block of flats in Shooters Way, Basingstoke, at about 22:45 BST on Saturday. He died later in hospital.
Five people - a 16-year-old boy, two women and two men - remain in custody on suspicion of murder, police said.
A second stabbing at about the same time is being treated as "potentially related".
Officers said they were initially called to a "report of a disturbance" at a second-floor flat in Kingfisher House, where a man was found fatally wounded.
A few minutes later, police were alerted by ambulance workers to a second man with stab wounds in Normanton Road.
He remains in a serious condition in hospital.
The two stabbings were thought to be "targeted" and could be linked, police said.
Detectives have been granted custody extensions for two murder suspects - a 16-year-old boy from Croydon and a 36-year-old woman from Basingstoke.
Three further people have been arrested on suspicion of murder, including an 18-year-old London man, a 28-year-old man from Essex and a woman aged 23 from Basingstoke.
A 30-year-old Surrey man has also been detained, on suspicion of assisting an offender.
Two 29-year-old men from Basingstoke have been released without charge.
Police officers have placed a forensics tent at the murder inquiry scene and have been searching undergrowth and a small area of woodland nearby.