Hampshire bus drivers stage 24-hour walkout over pay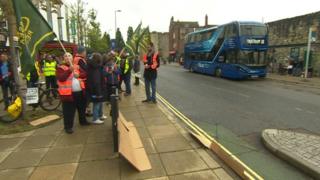 Bus drivers in Southampton and the surrounding area have walked out amid a dispute over pay.
The 24-hour strike by Rail, Maritime and Transport (RMT) union members coincides with a five-day strike by South Western Railway (SWR) staff.
Bus firm, Bluestar, owned by the Go-Ahead Group, said it had put a special timetable in place and would "endeavour to run as many services as possible".
It says it has offered staff an above-inflation pay increase.
Bluestar said it had been "inundated with tweets asking where buses are".
It added: "Contingency plans have been put into place, but we regret that some services will be reduced compared to normal."
During the morning rush-hour some services were reported to be running one hour late.
RMT, which represents about 45% of bus drivers at Bluestar, said the vote for strike action was backed by 87% of its members.
Regional organiser Mick Tosh said some drivers were expected to work "excessive hours" on a flat hourly rate and the firm had offered a 3% pay rise, worth about 31p per hour.
The union previously called for a "decent" increase as well as an enhanced rate for hours worked over the 40-hour contract.
Mr Tosh said the RMT "remains available for talks".
Unilink bus services are not affected.
The strike ends at 23:59 BST.