Southampton baby murder: Father Doulton Phillips guilty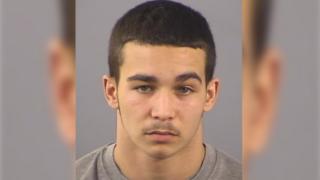 A teenage father who killed his baby son has been found guilty of murder.
Seven-week-old Reggie Phillips died after being taken to hospital with a fractured skull from his mother's flat in Southampton, on 11 February.
Doulton Phillips, 17, bit the child on the nose and had taken cocaine and drank vodka shortly before the murder, Winchester Crown Court heard.
The baby's mother, Alannah Skinner, 19, was convicted of failing to protect the child and of failing to summon help.
Both are due to be sentenced on Friday.
'Indescribable pain'
The trial was told neighbours heard "blood-curdling or painful screaming" coming from the flat - part of a mother-and-baby residential unit in Defender Road - in the early hours of 11 February.
The court heard Phillips, who was 16 at the time, fractured the baby's skull and ribs, leaving him with a broken leg and bruises in the "deliberate" attack.
Reggie was bitten on the nose and violently shaken or swung.
Prosecutors said the boy would have suffered "indescribable distress and pain" from a spiral fracture of the left leg.
The pair had spent the evening at a neighbour's party drinking vodka and beer. Phillips also took cocaine and possibly ecstasy, the court heard.
Each defendant told the court Reggie fell off the sofa while in the care of the other.
An ambulance was not called until Skinner, then 18, sought help from a neighbour at 04:30, the jury was told.
Giving evidence during the trial, Phillips said he had tried to give the baby CPR after calling an ambulance. The baby died two hours later in hospital.
Phillips had inflicted injuries including fractures to the ribs, leg and collarbone in the days leading up to the baby's death, the court heard.
Jurors were also told he pushed the baby's mother to the ground after an argument, injuring her face, whilst she was pregnant.
Skinner, who was 18 at the the time, told the court she did not witness the fatal injury to her son and that he did not appear to need urgent medical help.
She wept after a jury convicted her of the two counts of child cruelty.
A serious case review by Southampton Safeguarding Children Board is now in progress following the death.