Gosport baby death: Mother and partner jailed for 10 years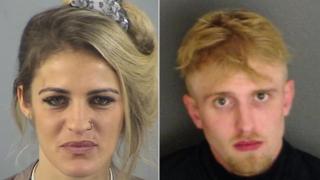 A couple have been jailed for causing or allowing the death of a three-week-old baby.
Stanley Davis died in hospital in March 2017 from a broken skull, having previously sustained 41 fractures.
His mother Roxanne Davis, 30, and her then partner Sam Davies, 24, both from Gosport, Hampshire, were previously found guilty following a trial at Winchester Crown Court.
Davis and Davies have each been given 10-year prison sentences.
Sentencing the pair, Judge Jane Miller QC told the court they were "equally culpable" for the "brutal" death.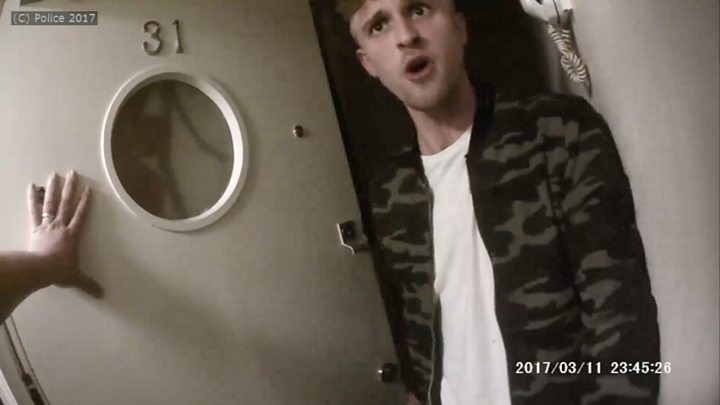 She said the baby had suffered "excruciatingly painful" injuries, possibly by being swung and thrown on at least three separate occasions.
At one stage, he was squeezed so hard his ribs would have touched the spine, she added.
She described Davis as the "dominant partner" and said she treated the baby as a "fashion accessory". However, she added that Davies was "never controlled" by his former partner.
Stanley suffered broken ribs and limbs on three separate occasions before the fatal head injury was inflicted on or about 20 March, the trial heard.
Prosecutors said one of the pair killed Stanley and the other "allowed it to happen", but they could not say who played which role.
Both tested positive for cocaine and cannabis after their arrests on 21 March, when the baby was taken from the flat in Garland Court. Stanley died in hospital seven days later.
Judge Miller said the pair's frequent use of cocaine and cannabis during parenthood was "irresponsible in the extreme".
"You both had quick and hot tempers and were violent towards each other," she said.
"You colluded to conceal Stanley's injuries... and deceived doctors and midwives.
"I am unable to be sure which one of you systematically injured Stanley.
"Both of you could and should have been capable of standing up to each other."
Police said Stanley's injuries had been "truly shocking".
He sustained 32 fractures to his ribs, nine fractures to the bones in his arms and legs, and an 8cm (3in) skull fracture.
The trial heard the couple had frequent arguments, which sometimes turned violent, in the days following Stanley's birth.
Police were called to their flat on 11 March after a neighbour heard screaming and "sounds as if someone was falling down the stairs".
Davies, of Mayfield Road, Southampton, was not the baby's father, but lived with Davis, of Lee Road, Gosport, at the time.
Davis cried after the verdict was delivered last month and shouted "no... he killed my baby... he murdered my little baby" as she was led from the dock.
She sobbed again during sentencing and as she was taken down to the cells, she shouted out: "He's a murderer."
The judge told her: "Much of your upset is self-serving crocodile tears. Your upset was more about you rather than Stanley."
She added: "You were delighted to show him off to family and friends, but when you were back at home and he wasn't a fashion accessory, you were happy to hand him over to your partner."
An independent review of how professionals worked together to safeguard Stanley has been commissioned by Hampshire Safeguarding Children Board.