Southampton Airport expansion plan backed by public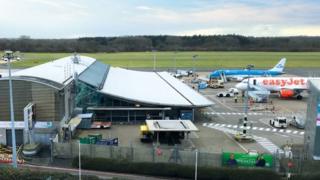 A plan to expand Southampton Airport has been backed by the public.
Airport bosses want to extend the runway and increase the number of flights, allowing it to more than double passenger numbers from two million to five million a year by 2037.
Hundreds of people took part in a consultation with over 60% backing the proposals, the airport said.
A final version of the plans will now be drawn up with a planning application due to be submitted in the spring.
Winchester City Council said while it welcomed the proposed development "from an economic perspective", it has asked to see additional details about the resulting noise impacts.
The authority is asking to see fuller details of noise levels across areas that may be affected by flights including Shawford, Colden Common, Otterbourne, Brambridge and Winchester.
The expansion would see the airport continue to operate within its current operating hours with no scheduled night flights, the airport said.
Under the plans the runway would be extended by 558ft (170m) to allow larger 190-seater aircraft to use the airport, allowing it to offer a wider route network.
Flight numbers will also increase but the airport said the doubling of passenger numbers did not mean the number of flights would double.
With new routes expected to be served by larger aircraft with more than 180 seats. The most common aircraft flying out of the airport currently has around 78 seats.
If the expansion goes ahead, the airport said a staffing increase from 950 to 1,500 was expected by 2037.
Cost details on the expansion are yet to be released.
Dutch airline KLM recently announced it is to stop flying from the airport from March.
The carrier currently operates two daily flights to Amsterdam but is blaming commercial reasons and changes to landing slots in the Netherlands for the decision.