Man's body found in Southampton Common lake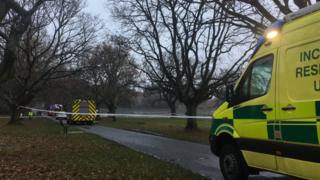 A man's body had been found in a lake on Southampton Common.
Police said the man's body was discovered by a member of the public in the ornamental lake shortly before 09:00 GMT.
A spokesman for Hampshire Constabulary said the death was being treated as unexplained and his next of kin had been informed.
A park run, which had been set to start at 09:00 GMT, was cancelled with hundreds of runners asked to leave.
Tamsyn Smith, the park run's director said: "The run was called off five minutes before the start - there were hundreds of people lined up and ready to go.
"It's all very sad."
A police cordon put around a large area of the common has since been lifted.