Portsmouth council confirms closure of Victory Energy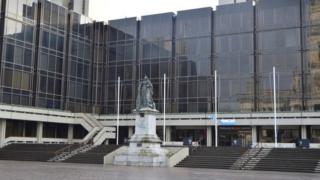 A city council has stood by a decision to close its own energy company.
Portsmouth City Council's previous Conservative administration approved the contract to set up Victory Energy, but it was yet to go into operation.
Former leader Donna Jones insisted it was a "highly investable business that would generate millions of pounds".
At a cabinet meeting, the new Liberal Democrat-run administration maintained it was "too risky" and would be closed at a cost of at least £2.5m.
Victory Energy was set up in 2017 with the aim of providing residents with low-cost renewable electricity and to generate money for the council.
At the time, it was claimed the company could reap up to £5m annual profit after an initial investment of £8.1m.
However, an independent report by PricewaterhouseCoopers said that was dependant on 144,000 customers signing up.
It added the council would have had to invest £19m over four years.
The company had been due to start operating in the autumn but was halted in August after the Liberal Democrats regained control of the council following May's elections.
'Challenging market'
The decision was called in by Labour and the Conservative opposition groups meaning it was sent back to cabinet to be reconsidered.
Lib Dem leader Gerald Vernon Jackson said: "We are not willing to take that risk with public money in what is currently a very challenging market.
"While the council could lose the money it has already spent on this project by stopping investment now, it means we are not risking millions more on top of this."
Ms Jones said the move showed a "shocking lack of ambition" and further studies from PWC showed the venture could make £22m after five years - 10 times more than first estimated.
"They [the Lib Dems] have failed to continue with investment into the most profitable energy supply company in the UK market," she said.
"This is a short-sighted decision, one I fear will cost the most vulnerable people of our city millions of pounds."