Call to replace 'disaster' Cowes chain ferry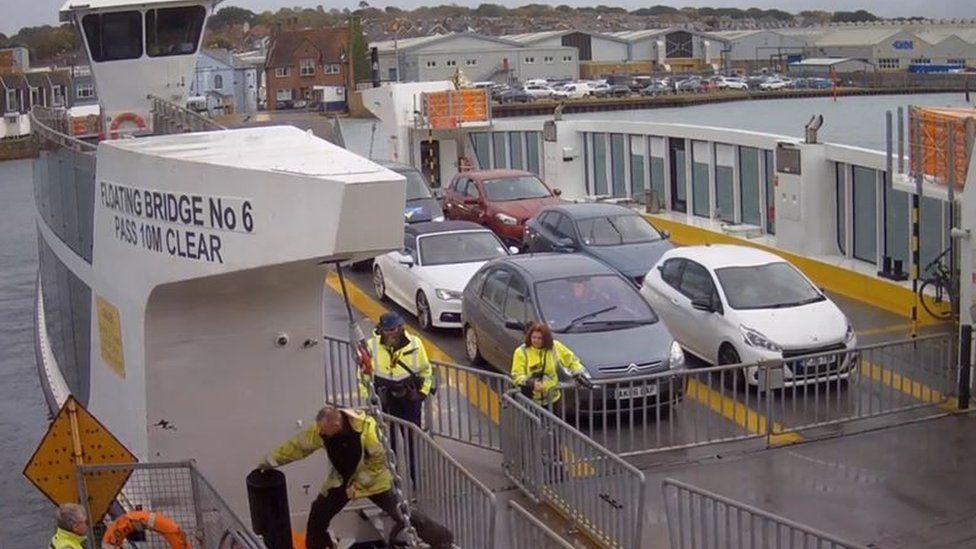 Campaigners are calling for Isle of Wight's troubled chain ferry to be sold and replaced by the local council.
Floating Bridge Number 6 has suffered a number of technical faults since it launched in May last year.
A petition has asked for no more cash be spent on the "substandard" ferry. Isle of Wight Council said buying a new one was "not practical".
The chain ferry entered service under the authority's previous administration.
Ian Ward, cabinet member for transport and infrastructure, said: "To suggest this council can go out and buy a new floating bridge is simply not practical and the petition calling for it to happen is frankly misleading and doesn't address the reality of the situation."
He said buying a new one would cost about £5m and getting rid of the current one would mean paying back £3.7m to the Solent Local Enterprise Partnership, which part funded the vessel, "with no guarantee we could sell the existing one".
Since the service was launched there have been groundings, complaints about noise and damage to cars and a crew member has been injured in the engine room.
Mr Ward said noise issues had already been addressed and "good progress" was being made to find solutions to the other issues.
Signing the petition, Sue Crew commented: "I am sick of our town being disadvantaged and our council tax being misspent on a floating bridge that is clearly not fit for purpose."
Jacquie Bennent added: "It's been a disaster from the start and I can see no point in throwing more good money after bad."
Several other signatories have described the ferry as a "joke" and requested the old "extremely reliable" one to be brought back into service "because it was and can be profitable for the council again".
While the chain ferry is out of action vehicles have to make a 12-mile (19km) round-trip by road.
A separate report from the Solent LEP has revealed the project's cost has reached £5.93m, with remedial work adding £1.49m to the initial forecast.
Hiring a passenger launch when the ferry is out of service has also cost the council an additional £540,000.
Floating Bridge Number Six timeline:
13 May 2017 - Vessel launched
14 May - Broke down
15 May - Service suspended by MCA
7 June - Ran aground
9 June - Ran aground for a second time
9 June - Council said it had cleared "silt build-up that caused the floating bridge to ground"
10 June - Ran aground a third time
13 June to 3 July - Taken out of service at low tide
30 June - Broke down due to electrical fault
21 July - Withdrawn from service at night due to noise levels
4 September - Withdrawn from service indefinitely
11 December - Service resumed as part of extended trial
2 February 2018 - Broken prow chain
26 September - Crew member injured in engine room
25 October - Snapped prow chain
Related Internet Links
The BBC is not responsible for the content of external sites.