Floating bridge: Big drops in vehicle and passenger numbers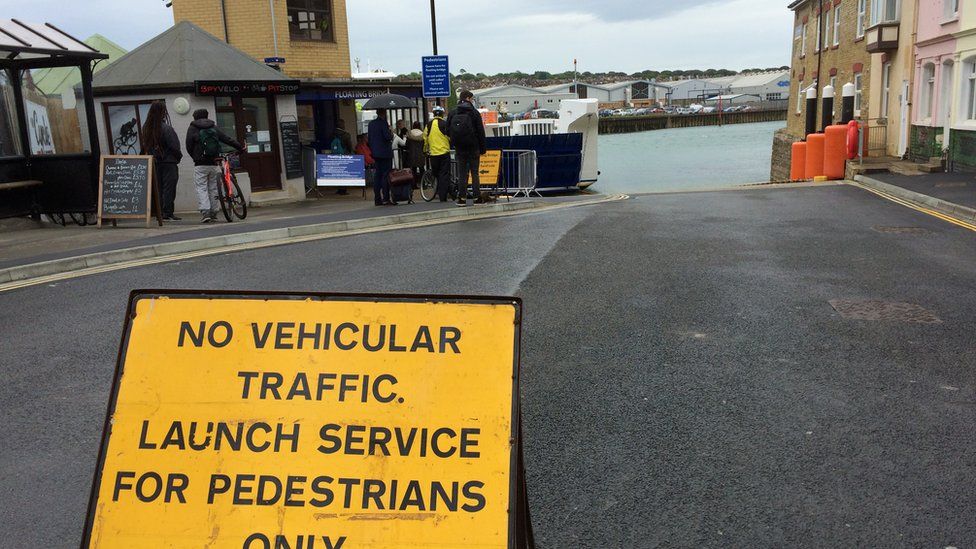 The number of vehicle journeys on the Isle of Wight's troubled chain ferry service has fallen by more than half in three years, figures show.
A new ferry has suffered a number of technical faults since it launched in May 2017.
Isle of Wight Council figures showed 134,000 fewer vehicle journeys in 2017-18 compared to 2015-16. Foot passenger numbers fell by more than 40%.
The council has insisted reliability will improve.
Floating Bridge Number 6 entered service in May 2017 but was immediately beset by problems.
There have been groundings, complaints about noise and damage to cars while a crew member was injured in the engine room in September.
Independent councillor Karl Love said residents had "given up" on the chain ferry.
"It's disgraceful. People don't have the confidence to use the floating bridge - they don't trust it. It's affected tourism, investment and the community's ability to interact."
The council's usage figures showed 253,618 single car journeys were made between August 2015 and July 2016.
This fell to 145,226 in the following 12 months, although there was no vehicle service for the first five months of 2017 while the new ferry was installed.
However, the figure for August 2017 to July 2018 showed a further drop to 118,762 - a 53% drop in the three years.
While the chain ferry is out of action vehicles have to make a 12-mile (19km) round-trip by road.
Hiring a passenger launch when the ferry is out of service has also cost the council an additional £540,000.
The report looked at options including scrapping the vessel or selling it to be used on Lake Windermere but said that was "unlikely to be realistic".
The council has pledged the service "will improve".
Speaking at a council meeting in September, cabinet member for infrastructure and transport Ian Ward said the service had operated above 90% reliability since March.
"This is a reliable craft as it stands. All people hear is negativity, but otherwise it's doing pretty well."
Floating Bridge Number Six timeline:
13 May 2017 - Vessel launched
14 May - Broke down
15 May - Service suspended by MCA
7 June - Ran aground
9 June - Ran aground for a second time
9 June - Council said it had cleared "silt build-up that caused the floating bridge to ground"
10 June - Ran aground a third time
13 June to 3 July - Taken out of service at low tide
30 June - Broke down due to electrical fault
21 July - Withdrawn from service at night due to noise levels
4 September - Withdrawn from service indefinitely
11 December - Service resumed as part of extended trial
2 February 2018 - Broken prow chain
26 September - Crew member injured in engine room
25 October - Snapped prow chain
Related Internet Links
The BBC is not responsible for the content of external sites.