Teen sentenced for Testwood School student stabbing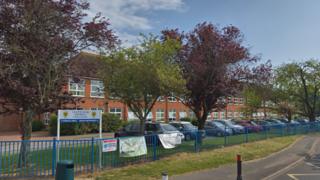 A 16-year-old boy who stabbed a girl in a school hall has been sentenced to four years in detention.
The 15-year-old girl was stabbed below the ribs at Testwood School in Totton, Hampshire, on 26 March.
She was standing in a queue at break-time when the boy attacked her "without warning", Southampton Crown Court heard.
The boy pleaded guilty at a previous hearing to possessing an offensive weapon and to wounding with intent.
Nick Tucker, prosecuting, said the girl "slumped to the ground with blood issuing from the wound".
'Screaming in fear'
The boy, then aged 15, was arrested a short time later outside the school, with a hammer and a kitchen knife in his rucksack.
Mr Tucker said the boy had previously texted the victim: "Just in case I changed my mind and decided to kill you, gloves = no prints."
In another text, he wrote: "You were screaming in fear with the idea of me taking a single step towards you."
The girl's father reported one threat to the police, the court heard.
In a victim impact statement, the girl said the attack had left her "deeply distressed".
'Extreme violence'
Judge Christopher Parker QC said it was a "matter of chance" that the four-inch blade had not killed her.
He said the defendant had continued to plot "acts of extreme violence" since his arrest.
He added that the boy's mother had previously done all she could to have his mental health assessed, as he had experienced childhood trauma.
The teenager had since been diagnosed with autism and a potential personality disorder, the court heard.
Judge Parker ordered that the boy spend an additional five years on licence after his release.
The court heard the boy's detention period might be extended further by the Secretary of State under a hospital order.