Isle of Wight ferry captain and mate suspended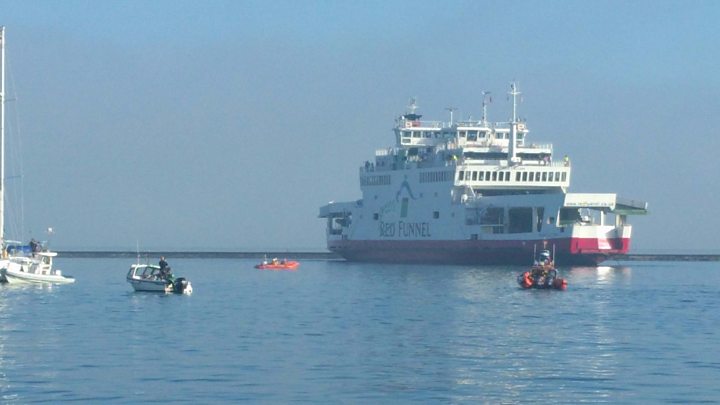 The master and mate of a car ferry that struck yachts and ran aground off the Isle of Wight have been suspended.
The Red Falcon ran aground in fog off East Cowes on Sunday morning, weeks after another vessel operated by Red Funnel tore yachts from their moorings.
Red Funnel said the suspensions were "standard industry practice" and it was changing its procedures on operating in restricted visibility.
The owner of a yacht which sank said he has been contacted by the ferry firm.
Nigel Minchin told BBC News "it was obviously a big embarrassment for them" after being called by Red Funnel's CEO Fran Collins on Sunday evening.
Mr Minchin's yacht, Greylag, which he has moored in Cowes since 1980, was recovered on Monday.
A Marine Accident Investigation Branch (MAIB) investigation has begun.
The ferry company said the master and mate had been suspended pending the outcome of the investigation.
The vehicle ferry, which left Southampton for East Cowes at 07:00 BST, ran aground an hour later while entering the harbour in low visibility, coming to a halt about 50m (165ft) off the esplanade.
You may also be interested in:
Forty passengers were stuck on board until the vessel was refloated three hours later. No-one was injured.
It comes after a catamaran and a channel marker post were struck by sister ship Red Eagle and two yachts were later found drifting early on 27 September.
The two incidents are understood to involve different ships masters.
Fran Collins, Red Funnel's CEO, said she was "concerned" about the two incidents.
"It's too early to speculate about the similarities, if any, with the last incident, but they both happened in restricted visibility so we're making immediate changes to our operating procedures to prevent any reoccurrence," she said.
"They are around how we look at what the visibility conditions are like... we're looking at putting tighter limits on that and slight changes for how the bridge teams operate."
She insisted the craft were "fully manned and in full compliance with all the regulations".
An inspection carried out in Southampton later on Sunday confirmed there was no damage to the hull of the Red Falcon and the ship has since returned to service.
Red Funnel said it had handed over chart plots of the ferry's movements which are recorded electronically to the MAIB.
Passenger Ed Anderson, from Guildford, said the thick fog had "really set in" as the vessel approached Cowes.
He described being in his car waiting to approach the quayside when he felt it "go into reverse quite rapidly".
"Full credit to Red Funnel staff and crew - they were excellent and made sure we were fed and watered and kept informed of what was happening. I suppose it could have been quite stressful."