Isle of Wight MP berates 'bullying' ice rink owner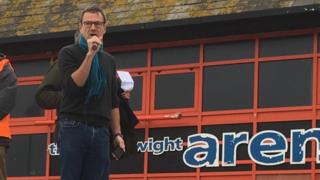 A Conservative MP has accused an investment firm of "aggressive, nasty, hostile capitalism" over the continued closure of an ice rink.
Ryde Arena, on the Isle of Wight, was shut in 2016 by AEW UK, saying the rink operator owed more than £200,000 in rent.
Speaking at a protest rally, island MP Bob Seely said the firm were "bullies".
AEW said it had a "duty to act responsibly with our clients' capital".
In a statement, the firm said it had "actively sought a solution to the closure of the property" with the MP and the island's council.
'Complete disregard'
The seafront building was taken over in 2015 by a community group, which went into liquidation the following year.
Isle of Wight Council previously said it had asked for the property to be reopened, but AEW had instead offered it for sale for £3.5m.
Mr Seely told Saturday's rally AEW had shown "complete disregard to our community".
"I think they bought this place with the intent of changing use and making a quick buck out of it," he said.
Ryde councillor Wayne Whittle said the council, as the site's freeholder, was about to enter "last and final negotiations to have the rink reopened... or returned to local control".
"Basically, we're going to go legal and it's starting next week," he told protesters.
In a statement, AEW said negotiations had shown "there is currently no party in a financial position to continue operating the property as an ice rink and the council does not wish to assume this role".
"However, AEW continues to have a dialogue with the CEO of the Isle of Wight Council, in the hope of finding a satisfactory resolution, potentially as part of the council's longer term plans for the regeneration of the seafront," it added.