Old Gaffers Festival cancelled due to rising costs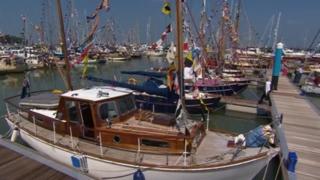 One of the Isle of Wight's most popular sailing events has been cancelled with organisers blaming a lack of volunteers and rising costs.
The Old Gaffers Festival celebrated sailing barges, steam and motor craft with a particular style of gaff rigging.
It was first staged in 1997 and had attracted up to 30,000 people.
Organiser Debbie Cotton said the costs of putting on the event had risen to £100,000 and it was no longer "viable".
The last event was held in Yarmouth in May 2017 after a decision in 2015 to hold the festival biannually.
Ms Cotton said staging the festival had been a "massive responsibility" and "at some point, I had to decide that it's not viable".
"I don't want to do anything half-cock and this has probably been the most successful event in the West Wight for more than 20 years," she added.
"I feel that now is the time to step aside and let someone else do something different."
She said any money held by the organisers would be given to good causes in the town and there were plans for a commemorative garden dedicated to the old gaffers.