Romsey tutor Graham Steed jailed for stalking pupil's mother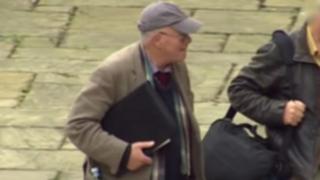 A private tutor who stalked the mother of one of his students by hiring a private detective has been jailed.
Graham Steed, 69, from Romsey, Hampshire, worked as a tutor helping young people to get into some of the top private schools in the country.
Earlier this year, he admitted to stalking the woman, in her 40s, for almost two years.
Steed has admitted a further stalking charge and was jailed for eight months at Winchester Crown Court earlier.
The court heard Steed had hired a private detective to take pictures of the victim and her partner, and also attempted to install a secret camera close to her home.
Deeply underhand
In February, he was given a suspended jail sentence and a restraining order after pleaded guilty to stalking.
Six months later he was prosecuted again after it emerged he had asked a former pupil to go to the woman's home to take photographs, the court was told.
Sentencing Steed, Judge Jane Miller QC said: "Using someone else to do the stalking for you was deeply underhand."
She sentenced him to eight months in prison - activating six months from his suspended sentence and adding an extra two months for the new offence.
In a previous statement his victim said she was "in fear of her life" and was "always looking over her shoulder".
She described the stalking as an "unsettling experience for myself and my whole family" and said she had "lost weight" and had "trouble sleeping".