Fawley Oil Refinery £500m upgrade planned by ExxonMobil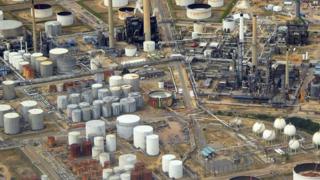 ExxonMobil has announced plans for a £500m upgrade at the UK's largest oil refinery.
The project would include new refinery units at the Fawley site, in Hampshire, and would allow it to process a wider range of crude oils, the US firm said.
It would also support 1,000 jobs and reduce the need for UK diesel imports, it added.
The company will make a final decision on the planned investment before July 2019.
ExxonMobil said the development would include a new "hydrotreater" refinery to produce cleaner fuels, supported by a new hydrogen plant.
Fawley refinery manager Simon Downing said the project was a "bold statement of confidence in Fawley and its ability to produce high quality fuels for the UK economy".
He said planning permissions and permits were being applied for.
The final investment decision would depend on regulatory approval and market conditions, he added.
The Fawley site, on Southampton Water, provides a fifth of the UK's refinery capacity.