Blind dog saved in 'dramatic' Lepe beach rescue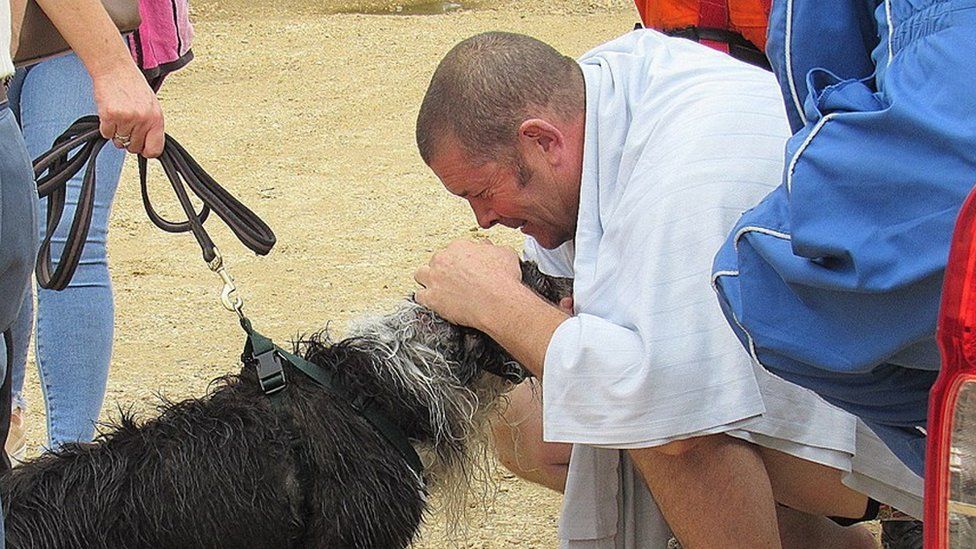 A blind dog which "took it in his head to swim to the Isle of Wight" has been saved from the sea off Hampshire after it got into "grave difficulties".
The small border collie, called Fly, had gone into the water at Lepe beach in the New Forest on Tuesday afternoon.
Fly's owner Mark Cowing jumped in to try and save his pet but could not contend with strong currents and had to be helped to shore by a kayaker.
After the ordeal the dog scoffed down four pouches of food and a pork pie.
A coastguard helicopter found the struggling dog 200m (656ft) offshore and directed an RNLI crew to its aid.
Mr Cowing, 55, who is from Hemel Hempstead, Hertfordshire, and is on holiday in the area, said: "We were literally playing on the shoreline when all of a sudden he took it in his head to swim to the Isle of Wight.
"When he got 20 or 30 feet out I had to strip off, down to my underpants, and go and rescue him.
"He disappeared out of sight so I presumed he drowned. I tried to wave for help but I thought I was a goner.
"Luckily a gentleman of 71, I didn't get his name, came out in his kayak and dragged me to shore."
Mr Cowing said he told the coastguard and RNLI about his dog but had lost hope the 12-year-old would be alive.
But the helicopter found him and Cowes RNLI lifeboat helm Mark Harker jumped into the sea and pulled the tired dog to the boat.
Mr Cowing added: "I was in tears when I saw him, he's my boy. I just felt a complete and utter idiot for what I did.
"When we got back to the caravan he had four packets of dinner and a pork pie and went to sleep."
Mr Cowing praised the emergency services and wants to trace the kayaker, who said he had heart trouble, to thank him personally.
The RNLI said the dog, which had lost its sight due to cataracts, was "in grave difficulties and the lifeboat arrived just in time" to carry out the "dramatic rescue".
Related Internet Links
The BBC is not responsible for the content of external sites.