Travellers pitch up in Eastleigh train station car park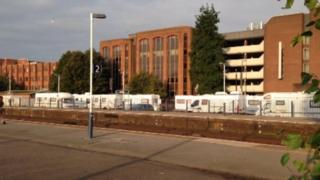 A group of travellers pitched up in a large area of the public car park at Eastleigh train station.
More than a dozen caravans and motorhomes, along with many other vehicles, arrived on Sunday.
It meant there were only a few car parking spaces available for rail passengers on Monday morning but by 13:00 BST the group had moved on.
South Western Railway said car park season tickets holders could use Southampton Airport Parkway instead.
In a statement, Eastleigh Borough Council said it was aware of "an unauthorised encampment on an area of private land at Eastleigh railway station owned by Network Rail".
It said council officers had been liaising with the land owner.
The BBC has approached Friends, Families and Travellers, a national charity that works on behalf of all gypsies, travellers and Roma for comment.