Farnborough Airport cocaine trial: Accused 'hired as charity PA'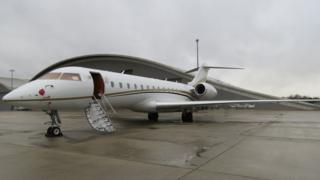 One of five men accused of smuggling half a tonne of cocaine into the UK on a private jet has told a court he thought he was working for a charity.
Fifteen cases of the drug were found at Farnborough Airport in January.
Italian national Alessandro Iembo, 28, from Bournemouth, is being tried alongside brothers Stephen Neil, 53, and Martin Neil, 49, from Poole.
They and Spanish co-defendants Victor Franco-Lorenzo, 40, and Jose Ramon Miguelez-Botas, 56, deny the charges.
Mr Iembo, of Richmond Hill, told Woolwich Crown Court he was paid £250 by a woman called Alice and a man to make the trips to Bogota, Colombia, as a personal assistant.
He told jurors he saw suitcases being loaded on to the plane ahead of the first trip on 8 December 2017 but assumed they were documents for the charity.
When the plane returned on 11 December, suitcases were offloaded and taken to an address in Bromley, the court was told.
Communicating through an interpreter, Mr Iembo said he was contacted a few weeks later and asked to do the same trip in January but would be required to make bookings and send emails.
Jurors were told he set up a fake email account using the name Mike Brown.
When asked why, he said: "There is too many Alessandro Iembo, so I used Mike Brown."
The court was told the five men travelled together in the jet from Luton Airport on 26 January at a cost of £138,500 and arrived at Farnborough Airport three days later with 15 suitcases of cocaine on board.
The haul weighed 500kg and had a street value of more than £41m.
The five men deny fraudulent evasion of a prohibition in relation to a class A controlled drug, between October 30 last year and 30 January.
The trial continues.