Netley military hospital chapel restoration complete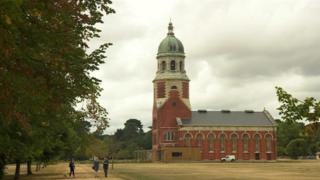 The last remaining element of the British Army's first purpose-built military hospital is to reopen after a £3.5m restoration.
Netley Chapel, near Southampton, is opening a year later than planned after the original building firm went into administration.
Work on the Grade II* listed building in Royal Victoria Country Park included replacing hand-painted windows.
A free exhibition inside tells the story of the hospital.
The Royal Victoria Hospital, the largest military hospital to be built, was opened by Queen Victoria in 1863 and served the military for more than a century, treating wounded from the Boer War, World War One and World War Two.
It had its own railway station and corridors over a quarter of a mile long from one end of the hospital to the other.
Most of the building was demolished in 1966 following an extensive fire.
Visitors to the revived building will be able to view the newly-painted ceiling and windows from the balcony which had been closed for many years.