Hampshire coastguard warns of 'deadly' inflatables as 15 rescued from sea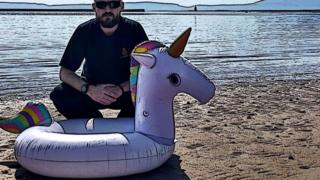 People on an inflatable unicorn, flamingo and dinghy were among those who prompted air and sea searches from the Solent off the Hampshire coast.
The coastguard said its rescue teams, RNLI lifeboats and the coastguard helicopter rescued 15 people on Monday evening.
HM Coastguard's Piers Stanbury said: "We can't stress enough - inflatables are not suitable for use in the sea."
He said the hotspot for the call-outs was Hayling Island.
One person was blown more than 400m (1,312 ft) from Hayling Island beach into "one of the busiest waterways in the world" on an inflatable unicorn, the coastguard said.
Rescue teams were called out more than 18 times when people using inflatables had got into difficulty.
Mr Stanbury said: "The tide was going to low tide which was dragging people offshore - one person got dragged out to Portsmouth Harbour where they were getting in the way of ferries.
"Inflatables really should only be used in swimming pools, not at the coast where they can quickly go from being fun to being potentially deadly."
The coastguard added its and the RNLI's time was being wasted making sure abandoned inflatables "did not have anyone at risk associated with them".
You may also like: