Isle of Wight Festival: Missing Canadian woman found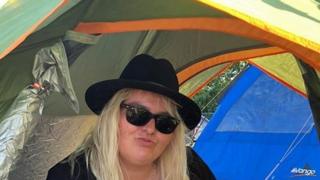 A Canadian woman reported missing after the Isle of Wight Festival has been found, her sister has confirmed.
Michelle Pelletier, 32, had last been seen at the festival in Newport on Sunday.
Her sister, Pamela Pelletier, said on Facebook that she had spoken to Michelle who was "safe" in hospital.
Hampshire Constabulary said Ms Pelletier was found in the Metropolitan Police area but gave no further details.
Her mother and aunt plan to travel to England then take her back to Canada.
Bringing her home
Pamela Pelletier said: "I have been in contact with my sister. She is in a hospital in England and is safe.
"Now we are working on bringing her home.
"My mom and aunt will be travelling to England in order to bring her home safely.
"I can't say thank you enough for all the prayers and support.
"I will continue to try to answer everyone as I can.
"Love you all so much and I don't have the words for how thankful I am."
The Canadian government confirmed it had been providing assistance to a family following reports of a citizen missing in Newport.
The festival celebrated its 50th anniversary this year at the event between 21 to 24 June.