Bob Higgins trial: Footballer 'abused at training camp'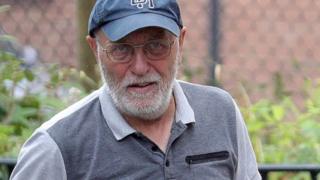 A former Southampton football trainee has described being touched inappropriately by his coach at a training camp in the north of England.
In video evidence played to jurors, the man - known as complainant P - said Bob Higgins assaulted him more than once at the week-long camp for up to 40 boys.
In one incident, he said Mr Higgins had touched him after telling him to do bending exercises.
The 65-year-old denies 50 counts of indecent assault against teenage boys.
In cross-examination, Alistair Macdonald QC told the man: "Your memory has played false. There were stretches but they were all out on the training pitch."
Complainant P replied: "That's not true."
'No recollection'
The court also watched a police video of another man - complainant R - who said players were given massages, while naked, before and after matches.
He said he was touched inappropriately by Mr Higgins on a number of occasions during the massages which had left him "sexually mixed up".
He said he felt "very uncomfortable" in the coach's presence and eventually wanted to leave the club.
He said: "My career was ruined. I didn't tell anyone - I was too embarrassed."
The jury previously heard Mr Higgins had been found not guilty at a trial for similar offences in the 1990s.
Under cross examination, complainant R agreed he had been interviewed by police over allegations against Mr Higgins in 1990 but had told officers he had "no recollection" of any incidents.
He said: "My parents were present, I was scared and I didn't want to say what really happened."
In total, the former coach is accused of indecently assaulting 24 teenagers, mostly football club trainees, between 1971 and 1996.
The trial continues.