Winchester tomahawk killer detained in hospital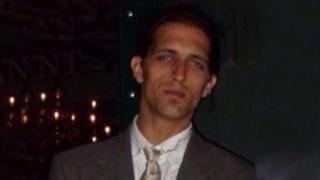 A man suffering from schizophrenia who killed an acquaintance with a tomahawk and knives before leaving his body to be found more than a month later has been detained indefinitely in hospital.
Carl Scott's decomposed body was discovered at his flat in Birch Court, Winchester, on 22 March 2017.
A jury returned a finding of unlawful killing against David Gray, 36, after a "trial of the facts" in May.
A judge imposed a section 41 hospital order at Winchester Crown Court.
Previously the court heard Gray, who refused to attend his trial, had claimed he killed the 37-year-old in self-defence.
He told a friend Mr Scott had been "terrorising him with needles and took his keys", the court heard.
Kerry Maylin, prosecuting, said a "heavy blow" from the ornamental tomahawk had fractured Mr Scott's skull, on or around 12 February.
He was then stabbed five times in the back as he lay "prone and defenceless", she said.
Gray then left Mr Scott to die, locking the door of the house and throwing the keys down a drain, the court heard.
By chance, Gray - a homeless drug user - was arrested the day before the body was discovered.
Police found him in Winchester Cathedral, waving a large altar cross above his head.
Gray was initially charged with Mr Scott's murder but was later found to be unfit to stand trial due to his "fluctuating mental capacity".
Following the trial, Judge Jane Miller QC said only the Secretary of State would be able to authorise Gray's release after the hospital order was imposed.
She said a murder trial would still be possible if Gray's mental health improved.