Archie Lloyd death: Sebastian Trabucatti appeals against conviction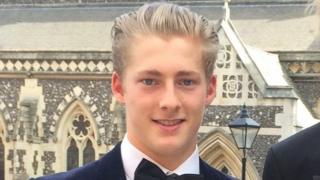 A club promoter found guilty of killing a teenager with a single punch outside a Greek nightclub is to appeal against his conviction and sentence.
Harrow School pupil Archie Lloyd was found dead in bed shortly after the incident in Malia, Crete, in 2015.
Sebastian Trabucatti, 25, from West Sussex, denied being responsible for the 18-year-old's death, at a court hearing in Crete on Tuesday.
He was given a suspended four-year sentence for first-degree manslaughter.
The court heard that Trabucatti assaulted the teenager and a friend during a drunken row in the resort in August 2015.
Giving evidence, he admitted "slapping" Mr Lloyd after the teenager told him, "One day you will work for me".
Mr Lloyd hit his head on the pavement as he fell to the ground outside the Cloud Nine club where Trabucatti worked, the court heard.
Medics treated him at the scene before allowing him to return to a villa in nearby Sissi.
The teenager, from Micheldever, Hampshire, was drowsy and never spoke again following the incident, his friends said.
A few hours later they found him dead with blood on his pillow.
Trabucatti, who told the court he lived in Haywards Heath, said he had felt threatened during the row.
Mr Lloyd's family said they were "disappointed" at his decision to appeal.
In a statement, they said: "[The court] did not believe his testimony, which was proven to be false and inconsistent.
"Sebastian Trabucatti chooses not to accept the unanimous verdict of the judges and jury and take responsibility for his actions but rather use the leniency of the Greek legal system to take the case to appeal."
The next hearing could take up to two years to come to court, lawyers said.