Undercliff Drive: Funding plea over collapsed island road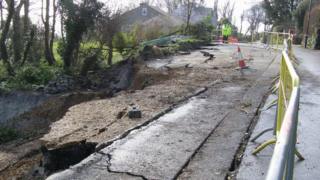 Coastal erosion funds should be used to find a solution for a road which collapsed four years ago, an MP said.
Eight houses in Undercliff Drive on the Isle of Wight were evacuated following a landslip in February 2014.
Speaking at a Parliamentary debate, island MP Bob Seely described it as "the most significant ground instability problem" in the UK.
The island's council said it needed help understanding what was happening to the land before rebuilding the road.
Conservative MP Mr Seely said: "Part of the road there gave way, and it has done so many times, lastly in 2014.
"My problem is that the council is unwilling to invest in rebuilding that road unless we can understand better, and at reasonable cost, the water flows underneath that part of our coastline.
"Therefore, we need projects such as the coastal erosion fund to give us the funding to understand some of these more geologically sensitive parts of the United Kingdom."
Isle of Wight Council leader Dave Stewart said: "Finding a solution to this complex issue is a priority for the council but we do need financial help if we are to progress the wider issues and government money would be a great boost.
"It makes it more challenging to reinstate the road without understanding what is happening to the land there because it could be carried away yet again."
Emergency services helped residents leave their homes on Undercliff Drive - between Niton and St Lawrence - following the landslip after heavy rain.
The road was closed with properties only accessible on foot. In 2016, a temporary route to provide full access for local residents was created.