Royal Navy rescues Algerian fishermen stranded for four days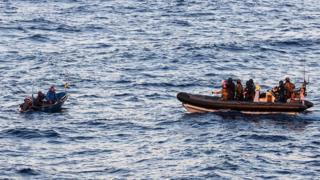 Two Algerian fishermen stranded for four days on a small boat in the Mediterranean have been rescued by the Royal Navy.
The vessel was spotted 70 miles off the north African coast by Portsmouth-based HMS Duncan on Monday night.
Royal Navy sailors described the men as being "in a bad way" and provided them with food and fresh drinking water.
The men, who had been eating raw fish and drinking sea water to survive, were then escorted back to Algerian waters.
The Royal Navy said the men would have stood "no chance" of survival and that although they could not speak English, their "smiles said it all" when they were rescued.
Lt Rob Coatsworth, who was on watch duty when he saw the men, said the boat's small size meant it would not have shown up on radar.
"The sun was low on the horizon, the swell was heavy and they had no signalling equipment," he said.
"The odds were very much against them as they were 70 miles north of Algeria and outside any shipping lanes."
HMS Duncan launched a boat with Royal Marines, a medic and an engineer to help the men.
Medical assistant Rhiann Dilmore said: "The two men in the boat were in a bad way.
"They had been eating raw fish and were drinking sea water.
"We patched them up and gave them hot drinks and halal food and made sure they were warm and reassured."
Lt Cdr Ben Dorrington said contact was then made with the Algerian coastguard and a handover was arranged with one of their vessels.
"Being adrift in an open boat at night must have been petrifying," he added.
"Everyone aboard is convinced without the destroyer's intervention, the fate of the two men would have been bleak."