Isle of Wight hospital's misdiagnosis left man disabled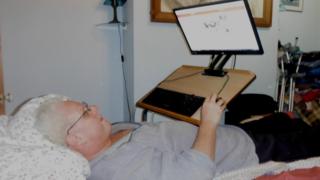 A former triathlete has been awarded £1.5m after an NHS misdiagnosis left him permanently disabled.
Matthew Smith, 53, from Cowes on the Isle of Wight, slipped on ice and twisted his back in 2014.
He was left with permanent spinal damage after his treatment at St Mary's Hospital and Southampton General Hospital was delayed by three days.
He now spends much of his time in a horizontal wheelchair or bed. Isle of Wight NHS Trust has apologised.
Mr Smith said: "I would give all the money back, and they could take my house too, if I could get my legs back."
Following his fall, Mr Smith said: "I crawled back to bed, but it felt like I had spiders running up and down my legs."
He visited St Mary's hospital after he lost feeling and movement in his left foot but was sent home with the muscle relaxant diazepam. He later felt numb from the waist down, the Local Democracy Reporting Service (LDRS) said.
Mr Smith's GP suspected he was suffering from cauda equina syndrome (CES) - a condition caused by damage to the nerves at the end of the spinal cord.
However, Mr Smith, who is now unable to walk or work, was not given an MRI scan in hospital to confirm the diagnosis until the following day, and surgeons at Southampton General Hospital did not operate until the day after that.
'Permanent damage'
Angharad Hughes, of JMW Solicitors, said there was "a clear lack of awareness" of the signs of the condition and the need to arrange an urgent scan and surgery.
"By the time it was done it was too late to prevent permanent damage," she added.
Isle of Wight NHS Trust, which responded on behalf of both hospitals and settled out of court on the matter, said: "We're very sorry that we did not correctly diagnose Mr Matthew Smith at the time and were not able to undertake an MRI scan at St. Mary's.
"Mr Smith was transferred to Southampton General Hospital within two-and-a-half hours and Southampton subsequently operated on Mr Smith the following day."