Residents to leave Portsmouth tower blocks over safety fears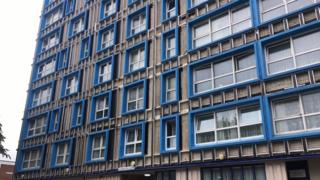 All 800 residents in two 18-storey tower blocks in Portsmouth are to be moved out due to safety concerns.
The council has taken the decision after structural reports revealed concrete used in Leamington House and Horatia House is not strong enough.
The two blocks have had aluminium composite cladding removed, which was identified as a fire risk in tests after the Grenfell Tower disaster.
Residents will be moved out of both buildings by spring 2019.
Portsmouth City Council said the issue with the concrete was unrelated to fire safety.
It was found while the council was looking at options to replace the cladding.
In a statement the authority said the risk related to "a severe explosion within a flat, the sort of event associated with pressurised gas".
It added: "This is very unlikely as there is no mains gas supply within either building and items such as gas heaters are not allowed in the blocks."
Gerald Vernon-Jackson, leader of the council said: "It is very important that people realise there is no immediate danger from day-to-day living in the buildings but, as our number one priority is resident safety, we are starting the process of moving people to new homes."
Stephen Morgan, MP for Portsmouth South, said he has made "a number of suggestions" to help affected families and urged those with concerns to contact the council.
"What is crucial now is that the government steps up and assists the council with the scale and cost of this project," added Mr Morgan, who represents Labour.
Extra 24-hour security has been put in place in both the buildings to make sure nothing dangerous is brought in and to check people entering are those who live in the block or are visiting residents.
Portsmouth City Council said its staff would visit those living in all 272 flats.