Ryde Pier rescue for seagull-chasing puppy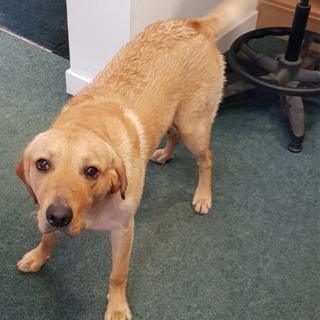 A puppy has been rescued from the sea after getting into difficulty while chasing seagulls.
Wightlink Ferries staff saved golden labrador, Bertie, after he was spotted half-a-mile out to sea near the end of Ryde Pier, off the Isle of Wight, at about 07:00 BST.
Owner Rob Gale, from Ryde, had been out cockling when his nine-month-old dog fled.
He said ferry staff formed a "human chain" to pull Bertie back to the pier.
Mr Gale, who Wightlink staff tracked down via social media, added: "He was chasing seagulls and ran into the water.
"I was whistling for him but under the pier sounds echo around. He couldn't work out where I was and just kept on swimming."
Rescuer Scott Harvey said: "We gave him a few biscuits, he ran round the ticket office for a bit, then fell asleep."