Bob Higgins trial: Coach 'infatuated' with footballer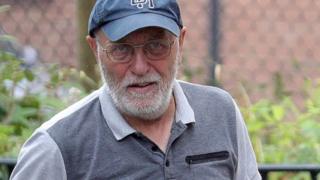 A promising young footballer misused alcohol and drugs to cope with being repeatedly groped and kissed by a youth coach at Southampton FC, a court heard.
Bob Higgins, 65, is accused of groping and other abuse against 24 boys, many who were trainees at Southampton and Peterborough United at the time.
Prosecutors said he had become "infatuated" with Billy Seymour, who has waived his right to anonymity.
Mr Higgins denies 50 counts of indecent assault at Salisbury Crown Court.
The charges, dating between 1971 and 1996, arose after the NSPCC set up a dedicated helpline to deal with sexual abuse in football, the jury was told.
Adam Feest QC, prosecuting, said Mr Higgins went on his knees to beg Mr Seymour not to leave him to attend the Football Association's School of Excellence at Lilleshall.
He said the sexual behaviour became "normalised" in Mr Seymour's mind after months of grooming.
The court heard Mr Seymour was repeatedly called to the defendant's bedroom where Mr Higgins cuddled him and told him he loved him.
The boy became so distressed that on one occasion he fled the house semi-naked and rang his parents from a phone box, the court was told.
Jurors heard he only told his parents what had happened many years later, when he was jailed for a knife assault.
Mr Seymour told his parents the victim of the attack "looked like Bob, smelt like Bob" and "he's inside me", Mr Feest said.
The court was also told another Southampton FC trainee, Dean Radford - who also waived his right to anonymity - said Mr Higgins inappropriately touched him to "ease the bruising" from a lower back injury.
When the allegations came to light in 1989, a senior figure at the club asked Mr Higgins about "comments and jokes about his behaviour towards young players", Mr Feest said.
He said Mr Higgins replied that he was innocent and would sue anyone who made allegations against him.
The jury earlier heard Mr Higgins, from Southampton, was found not guilty at a trial for similar offences in the 1990s.
Jurors were also told Mr Higgins continued to abuse trainees after joining Peterborough United in 1994.
He took revenge on a star youth player who rebuffed him by making him run 14 miles a day to lose weight, the court heard.
The player was dropped and later released by the club, Mr Feest added.
The jury was told Mr Higgins made no comment when he was interviewed by police about the latest allegations in March and June 2017.
On both occasions he handed detectives a prepared statement, saying he was not guilty of any offence.
The trial continues.