Portsmouth Live at Bandstand axed after Mutiny deaths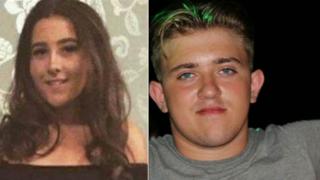 A dance music event has been cancelled over concern a deadly batch of drugs suspected of killing two young festivalgoers is still being sold.
Georgia Jones, 18, and Tommy Cowan, 20, died after attending Portsmouth's Mutiny Festival on Saturday.
City council leader Gerald Vernon-Jackson said an unrelated event this weekend - Live at the Bandstand - had been been called off as a result.
He said there was a "real fear" the same drugs were still in circulation.
Ms Jones and Mr Cowan - also known as Tommy Bakeer - fell ill and died in hospital hours after festival organisers issued a warning about a "dangerous high-strength or bad-batch substance on site".
Thirteen other people at the festival were also treated in hospital on the same night, some with "drug-related" symptoms.
Five people have since been arrested on suspicion of supplying Class A drugs and released while inquiries continue.
Liberal Democrat Mr Vernon-Jackson said Live at the Bandstand, a free 1990s dance music event in Castle Field, had been expected to attract 15,000 people on Saturday and Sunday.
However, he said there was no provision for security checks at the council-run event.
"There was a real fear that whoever was selling this stuff to people at Mutiny could still have some with them and want to sell it on," he said.
"We were really worried that would be a market for people to sell this stuff that we now know is so dangerous and kills."
Asked whether Mutiny Festival would return to Portsmouth next year, Mr Vernon-Jackson said: "I want to look at the evidence and have a full review - but it would be quite difficult for me to persuade people that they could operate this safely."
Mutiny Festival organiser Luke Betts said a decision on next year's event was "not something which has even crossed our minds at the moment".
He added: "This weekend we joined that sad fraternity of events - like Boomtown and Bestival - who have lost festival family members to drugs.
"We can't even keep drugs out of our prisons so it's time for politicians, authorities, police and the events industry to work together on the best ways to educate as well as safeguard our young people."