New vessels for Brittany Ferries UK-Spain routes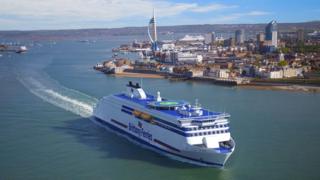 Two new ferries will be introduced between the UK and Spain, operator Brittany Ferries has announced.
The firm said the two ships, to be built in China, will serve the Portsmouth to Santander and Bilbao routes.
They are scheduled to enter service in summer 2021.
Brittany Ferries said they would cater for "an ever-increasing demand for long-haul ferry travel" from holidaymakers.
The new 215m (700ft) vessels will be the longest in the Brittany Ferries fleet and will cater for about 1,000 passengers.
'Growth in demand'
Both ships will be built at the Avic International Weihai, and will be registered under the French flag and crewed by French seafarers.
The company said it was part of a five-year modernisation of its fleet worth "hundreds of millions of pounds".
Jean-Marc Roué, Brittany Ferries president, said there had been "significant growth in demand" for holiday ferry travel to Spain.
He said: "Post-Brexit, we expect this to continue and today's announcement is a clear statement of intent.
"As well as passenger traffic, we believe that an increase in freight capacity will open the door to more hauliers seeking direct access between Britain and the Iberian peninsula."
In 2017 the company carried more than 330,000 passengers and 150,000 cars on its routes to Spain from Portsmouth and Plymouth.
---
Analysis: Paul Clifton, BBC South transport correspondent
This is a first for the UK - cross-Channel ferries built in China.
Brittany Ferries says the ships will be "gas ready". That isn't quite the same as promising they will definitely be powered by liquefied natural gas (LNG), which is cleaner and less polluting than conventional marine oil.
For Brittany Ferries, this is a huge deal. It already has one new LNG-powered ship under construction in Germany for its Portsmouth-Caen route.
That's either a massive vote of confidence in the UK's post-Brexit economy. Or a gamble on how the holiday market will look after we leave the EU next year, depending on your point of view.
Brittany reckons it stacks up - the Spanish routes to be served by the two Chinese ships have grown by 80% in a decade. Whereas the French routes have remained more or less static.
---