'Booming' bittern heard on Isle of Wight for first time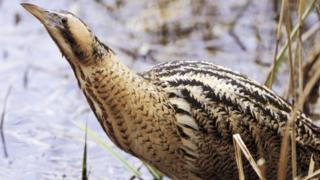 The distinctive foghorn-like call of a male bittern has been heard "booming" on the Isle of Wight for the first time.
The far-carrying call of the bird was heard at Brading Marshes RSPB reserve.
Keith Ballard, the reserve's warden said: "It's is like receiving a Michelin star as a restaurant - it's one of the highest marks of success."
The RSPB, which lists the bird on its "amber" species list, said the first record on the island was "remarkable".
Brading Marshes is a recently restored wetland which stretches from the village of Brading to the sea at Bembridge Harbour.
Mr Ballard said: "Bitterns have very selective habitat needs, and to attract them you need a truly thriving ecosystem.
"The work we have done to manage the reserve for insects, fish, reptiles and mammals, as well as birds, now means we have one of the most UK's most sensitive species choosing the Isle of Wight as its home."
The wetland bird was considered extinct as a breeding species in the UK by the 1870s.
In 2017 at least 164 birds were counted at 71 sites - each male's boom is slightly different, birds can be identified individually.
Staff at the nature reserve will monitor the bird over the coming weeks.
The bittern
Shy, secretive birds - more likely to be heard than seen
The male's loud, booming mating call can be heard during spring over 5km (3 miles) away
They move silently through reeds at the water's edge looking for fish, and also eat amphibians and insects
Prized as a medieval banquet dish. Hit by hunting - and the loss of its reed bed habitat - it became extinct in the UK in 1886
Source: RSPB and BBC Nature