Norma Howard, 91, becomes 'oldest UK woman to wing-walk'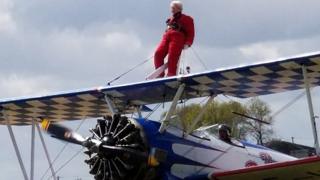 A 91-year-old retired physiotherapist is thought to have become the UK's oldest female wing-walker.
Norma Howard, from Fleet in Hampshire, was strapped to a vintage biplane for the challenge, which has so far raised almost £2,000 for charity Dementia UK.
Mrs Howard said she felt "very relieved and invigorated" after landing safely in Cirencester, Gloucestershire.
Former nurse Betty Bromage was believed to have held the previous record since June 2017 when she was aged 88.
Mrs Howard was attached to the top wing of the aircraft before flying to a height of 500ft (152m).
After touching back down to earth, she said: "I feel very relieved but also invigorated.
"It was cold up there and I had so many layers on me I looked like the Michelin Man.
"The hardest bit was actually getting up onto the plane wrapped in so many clothes."
Mrs Howard added that she had decided to do the wing-walk "solely to raise money for Dementia UK" and "not for the thrills".
The charity said it "cannot thank Norma enough for her efforts".
Guinness World Records said it did not have separate categories for the oldest male and female wing-walkers.
This means Mrs Howard's achievement will not be formally recognised by the organisation.
It confirmed the oldest ever wing-walker was the late Tom Lackey. He broke the record aged 93 flying over the Irish Sea in 2013.