Boy's skull fractured after Poole school cricket ball blow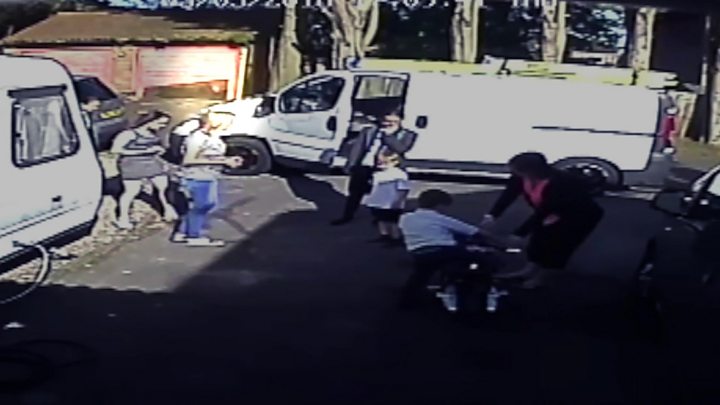 A five-year-old boy suffered a fractured skull when he was hit on the head by a cricket ball hit over a fence from a nearby school.
Harry Butt was struck as the ball came over the fence from Poole Grammar School onto Haslar Road on 3 May.
He initially suffered severe concussion and two black eyes. A subsequent scan showed a fracture which requires more tests, his mother Michelle Butt said.
The school said it was reviewing the scheduling of matches on its pitches.
'Electrical pop'
Harry was visiting friends with his family when he was struck by the ball as he played in a driveway.
"I heard this whistling sound and the next thing I know Harry is on the ground," Ms Butt said.
The impact of the ball hitting his head "sounded like an electrical pop", she added.
Ms Butt said her son "was not himself" following the blow and added doctors had been concerned about the swelling and bruising around his eyes, which prompted the CT scan.
She said it had since been discovered some of the bone was pressing on his brain which requires further hospital tests.
In a statement, Andy Baker, head teacher at Poole Grammar School, said: "This is the first such incident in my time as head teacher at Poole Grammar, but it is one incident too many.
"We hope that the young person makes a full recovery, and we are very conscious of the distress this has caused to him and his family."