Portsmouth Navy base fire creates huge plume of smoke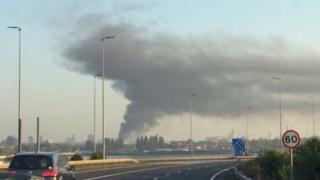 A blaze at a Royal Navy base created a huge plume of smoke which could be seen across Portsmouth.
Rubbish piled against a warehouse near the city's waterfront caught fire shortly after 19:30 BST on Monday.
The blaze spread, ripping through machinery and hazardous materials, Hampshire Fire and Rescue Service said.
The Royal Navy confirmed the fire was on its property and that an investigation was being undertaken by Ministry of Defence Police.
No-one was injured in the blaze, firefighters said, but it could have been "much worse" if it had spread inside the building.