'Council rent hike' shuts Portsmouth gliding club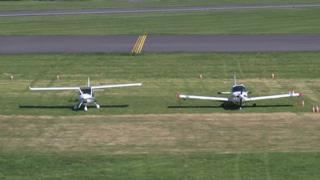 A charity gliding club claims it will have to close because the council has "sharply increased" its rent.
Portsmouth Naval Gliding Centre pays Fareham Borough Council about £1,000 a year per glider to use a hangar at authority-owned Solent Airfield.
The club claims it will be charged £6,000 a year per glider. Chairman David Durston said their finances were "stacked up against" them.
The council said the current payment arrangement was "not viable".
'Temporary arrangement'
Solent Airfield was previously owned by the Royal Navy and has been used by the charity for more than 60 years.
The council took over the airfield in 2015 and said the centre had since enjoyed "extremely favourable terms" but had been told it was a "temporary arrangement".
It added it would not be fair on other gilding firms if the authority were to subsidise the charity's commercial activities.
The club claims the council wants to charge £6,000 per year per glider, when it currently only pays for maintenance - totalling about £1,000 per year, per glider.
Mr Durston said the centre, which allows young people to develop aviation skills "in an affordable manner", had received an eviction order for 31 May and it had little choice but to close.
He also cited recent restrictions on winch launching imposed by the airfield's management, Regional and City Airports Ltd, which substantially reduced its income.
The council said the restrictions were imposed following a review by the Civil Aviation Authority after increased traffic levels.