Labour and Tory leaders defeated in council elections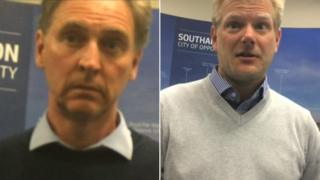 Labour's council leader in Southampton lost his seat to the Conservatives, but the opposition party's own leader was also voted out.
Simon Letts lost his Bitterne seat on Southampton City Council although Labour maintained control of the authority.
His Conservative counterpart Jeremy Moulton also lost his seat.
Portsmouth City Council remains under no overall control with the Conservatives as the largest party.
Labour made gains as the UKIP vote collapsed.
Elsewhere in Hampshire, the Liberal Democrats comfortably held their stronghold of Eastleigh.
Live coverage of the Local Elections in the south of England.
In Southampton Mr Letts said he was "immensely disappointed" to have lost his seat after 18 years on the council.
He lost the Bitterne ward to the Tories by 295 votes.
"National issues have played a very big part," he said. "This is a repeat of the Brexit effect - the seats where Labour did well were Remain and the seats we did badly were where there was a vote to leave the European Union."
The symbolic victory was the Conservatives in claiming the leader's seat was dampened by the loss of their own leader, Mr Moulton, whose Freemantle ward seat went to Labour by a majority of 220 votes.
There was no overall change in control after a third of seats were contested with Labour retaining control of the authority. The party has two more seats than the other parties combined.
At Portsmouth City Council, UKIP lost six seats, Labour gained four seats and the Conservatives and Lib Dems gained one apiece.
Labour group leader Stephen Morgan MP said: "We've gained in places we've never won before.
"We've got a lot of new members and we've brought the party together."
Claire Udy who had resigned from the party in a row over anti-semitism last week, said she would serve as an independent despite being on the ballot paper as a Labour candidate.
Conservative council leader Donna Jones said she was "upbeat" after winning six seats.
"We've polled the most number of votes across the city. Whilst I'd love to have a majority, I'm positive and looking forward to another year in administration."
The Lib Dems held on to control of Eastleigh where all the seats were being contested following boundary changes.
The party made two gains on Winchester City Council, reducing the Conservative majority to just one.