Officer tells black fan 'you stick out like sore thumb'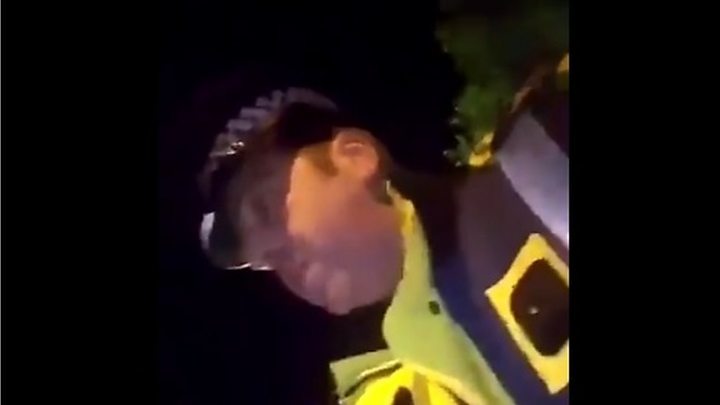 A police officer who appears to tell a football supporter "you're black and stick out like a sore thumb" during an online video has been removed from public-facing duties.
Sgt Jason Holford made the remark in footage posted on Twitter following a match between Aldershot Town and Ebbsfleet United on Wednesday.
The incident has been referred to the police watchdog, Hampshire Police said.
An "urgent investigation" into the video's content has begun, it added.
The 11-second clip, which has been shared hundreds of times, begins with Sgt Holford saying: "I said to you I recognise you from being from Aldershot because you're black and stick out like a sore thumb."
Other people can then be heard asking to see Sgt Holford's number.
'Undermines' public confidence
In a statement, Assistant Chief Constable Scott Chilton confirmed Sgt Holford was on duty during the match and that the incident has been referred to the Independent Office for Police Conduct (IOPC).
"I deplore any kind of behaviour that undermines the public's confidence in policing and I would like to apologise to anyone who has been offended by what they have seen," he said.
"It is only right that we allow the IOPC to conduct their investigation into the exact circumstances of the conversation captured within the footage.
"At this time the officer in the footage will not undertake public facing duties."