Portsmouth hospital A&E care delays put 'patients' lives at risk'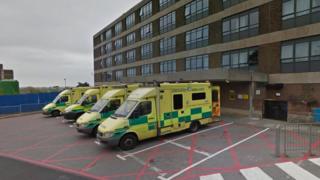 A patient died and lives were put at risk due to care delays at a hospital's A&E department, inspectors have found.
Some were kept in corridors and at "unsuitable" departments in Queen Alexandra Hospital, Portsmouth, the Care Quality Commission (CQC) said.
The inspection prompted by concerns over the hospital's winter performance found "lengthy delays", an "avoidable" death and a "near miss".
Portsmouth Hospitals NHS Trust said it was "unacceptable".
'Unable to offload'
The hospital had been too late in planning for increased winter demand, the CQC said.
During the unannounced visit in February and March, it found Queen Alexandra Hospital did not respond appropriately when systems failed and overcrowding had led to patients being kept in corridors.
Two people in the emergency department had waited more than 24 hours to be admitted, it said.
A heart patient suffered an "avoidable" death when their treatment was delayed because the cardiac day unit was being used to house non-cardiac patients.
In another case one person suffered a "near miss" after arriving with chest pains and waiting four hours for an ECG heart trace.
A corridor was "blocked" by other patients on trolleys and delays meant ambulance staff were "unable to offload their patients" and were unable to respond to further calls.
Chief Inspector of Hospitals Professor Ted Baker said: "We have made it clear to the trust where it must take further action to improve urgent and emergency care.
"We will continue to monitor the service to ensure improvements are made."
The NHS trust, which runs the hospital, said it "fully accepted" the findings.
Chief executive Mark Cubbon said: "The report is a stark reflection of the often harsh reality faced by our frontline staff.
"I am truly sorry that despite all of our best efforts this winter, some patients and their families experienced delays to their care."
Mr Cubbon said the "long-term solution", including a "large scale redevelopment of the emergency department", would "take time to embed".