No action over Southampton election pen fraud probe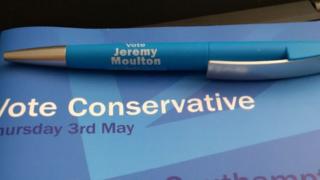 An investigation into an allegation of electoral fraud over "vote for me" pens has been dropped by police.
It comes after the pens from Conservative candidate Jeremy Moulton were sent out to Southampton residents.
Hampshire Constabulary said: "Following consultation with the Crown Prosecution Service, we have concluded that no offences have been committed."
Jeremy Moulton said: "I am pleased the matter is closed. The whole episode has been very distressing."
Mr Moulton is the leader of the Conservative group on Southampton City Council.
The complaint came from Ed Thompson who is standing for Viva Europa.
Southampton residents go to the polls on 3 May from 07:00 BST and 16 seats are up for election.
The Electoral Commission's summary of electoral offences states: "A person is guilty of treating if either before, during or after an election they directly or indirectly give or provide any food, drink, entertainment or provision to corruptly influence any voter to vote or refrain from voting."
In 2015 a UKIP parliamentary candidate was questioned over allegations he tried to influence voters with sausage rolls.
No further action was taken against Kim Rose, standing in Southampton Itchen.
The candidates standing in the Freemantle ward are:
Alexander Clifton-Melhuish - Liberal Democrats
Lindsey Hood - Green Party
Steve Leggett - Labour
Jeremy Moulton - Conservative
Peter Packwood - Trade Unionists and Socialists Against Cuts
Ed Thompson - Protest against Brexit - vote Viva Europa