Totton Post Office fraud: Men jailed over £700,000 scam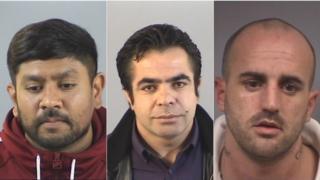 A former postmaster has been jailed over a £700,000 Post Office fraud.
Manish Parmar, 34, sent fraudulent paying-in slips to the head office even though his branch in Totton, Hampshire, had closed down.
Parmar, of Wilton Road, Southampton, was convicted of fraud and two counts of converting criminal property, and was jailed for six and a half years.
Three accomplices, who pleaded guilty to money laundering, were also jailed at Southampton Crown Court.
They were among 11 people recruited to let him use their bank paying-in slips, police said.
Asir Karakulah, 35, Station Road North, Totton, was handed a 30-month prison sentence.
Philip Maidment, 37, of Testbourne Road, Totton, and Gareth Hills, 39, of Holmesland Walk, Botley, were each jailed for one year and four months.
Eight other people who also pleaded guilty to money laundering received non-custodial sentences.
Parmar was in charge of the post office at Goldsmiths (best-one) newsagent's in Rumbridge Street from 2011 to 2014.
A total of £701,835 was paid fraudulently in 2015 and 2016 into the bank accounts of Parmar and his 11 recruits.
The Post Office has been approached for comment.