Southampton arts centre delays 'cost council £16m'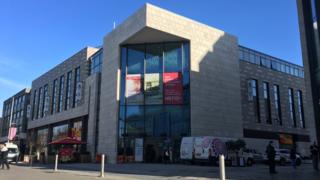 A lack of "robust project management" contributed to a council overspend of more than £16m on a delayed arts complex, a leaked report has said.
Studio 144 opened in Southampton in February, 18 years after the project started.
The initial budget of £13m could eventually reach £34m, the Southampton City Council audit report said.
Council leader Simon Letts said he had changed management practices to ensure "absolute control" of projects.
The Southampton Independents party wrote that it had obtained the report after "putting pressure on the legally responsible Council officer".
Councillor Andrew Pope wrote on the party's website that the "scandalous" overspend meant "millions of pounds were robbed from other budgets".
The two-building complex in Guildhall Square, part of Southampton's new "cultural quarter", includes the John Hansard Gallery and NST City theatre.
"The initial projected cost... has increased by £16.5m to an approximate cost of £30m," the report said.
He said the council might have decided not to proceed with the project if it had ever reviewed its initial feasibility study from the year 2000.
The report concluded: "A shorter project lifetime, continuity in staff and a robust project management may well have enabled the authority to effectively manage the financial risks."
'Confused tendering'
Labour council leader Simon Letts said he accepted the auditor's points.
He said capital projects were now reviewed at monthly management meetings, giving the council "far better control".
Leader of the Conservative group on the council, Jeremy Moulton, said a "confused tendering process" had led to a lack of accountability between different contractors.
Liberal Democrat Adrian Vinson, who led the council from 2003-7, said: "The 'project lifetime' was down to the Arts Council, the developer and others over whom the council did not have full control."
Previously the council has said the arts centre would generate £21m for the local economy.