Cowes Floating Bridge runs aground after 'reliable' claim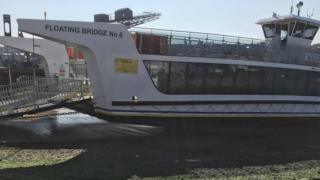 A troubled chain ferry ran aground two days after a council gave reassurances about its reliability.
The Floating Bridge service at East Cowes on the Isle of Wight was suspended for several hours on Saturday.
It followed a meeting of the island council's scrutiny committee on Thursday when leader Dave Stewart described it as a "reliable" service.
The authority said a build up of river silt caused the ferry to run aground.
The £3.2m Floating Bridge Number 6 has been beset by problems since entering service in May 2017 - car bumpers were scraped while disembarking and it suffered an electrical fault on its second day in use.
It re-entered service in December after being suspended for more than three months.
In February it spent a further period out of action after a prow broke mid-way through crossing the River Medina.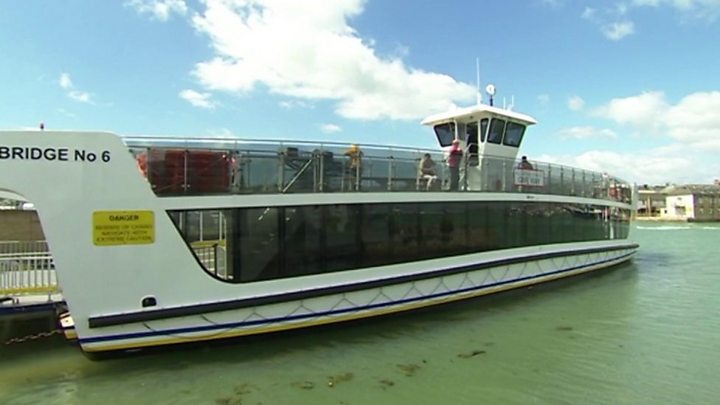 Mr Stewart, Conservative leader of Isle of Wight Council, has since said it was "nearly a good and reliable service".
More than 90,000 people and 40,000 vehicles have used the ferry since December when it returned to service, he said.
"There are generally about four to five journeys an hour, and we are aiming for five to six," he added.
'Laughing stock'
Independent councillor Karl Love said: "Nearly right is a long way off being right."
He added he had been called to the ferry site on Sunday by "angry residents" who had made complaints about noises it was making.
"When it sets off there is a terrible banging noise," Mr Love said.
He added the ferry had become a "laughing stock" and its breakdowns were affecting the local economy.
The council said the ferry would be taken out of service later this week to improve electrical and navigational systems and work will be carried out on its prow to try and reduce noise.
It said the build up of silt at the bottom of the East Cowes slipway was a separate issue and will be cleared as part of ongoing maintenance work.
---
Floating bridge timeline:
13 May 2017 - Vessel launched
14 May - Broke down
15 May - Service suspended by Maritime and Coastguards Agency
7 June - Ran aground
9 June - Ran aground for a second time
9 June - Council said it had cleared "silt build-up that caused the floating bridge to ground"
10 June - Ran aground a third time
13 June to 3 July - Taken out of service at low tide
30 June - Broke down due to electrical fault
21 July - Withdrawn from service at night due to noise levels
4 September - Withdrawn from service indefinitely
11 December - Service resumed as part of extended trial
2 February 2018 - Broken prow chain
14 April - Ran aground
---