Hampshire crime commissioner Michael Lane loses no confidence vote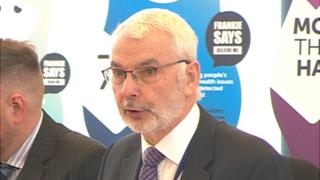 Hampshire's police and crime commissioner has lost a vote of no confidence from officers.
The Police Federation vote had a 60% turnout, and 98% of officers voted against Michael Lane, who has proposed to increase his office budget while cutting specialist police.
An investigation has also been announced into his performance by a scrutiny committee.
Mr Lane said: "I just reiterate that my purpose is to keep people safer."
Mr Lane's proposals sparked disagreement in January, when panel members said the plans were "not acceptable" and residents would "not be happy".
According to the budget report, 162 police staff and officer posts are due to be cut in 2018/19 - saving £7m.
About half of the posts are public order specialists, intelligence officers, traffic police and dog handlers.
Mr Lane said: "I am always open to hearing views from police officers and those that voted in any poll.
"I put money to giving them Tasers and spit guards... I care about their pay. But the management of that in detail is for the chief constable."
Mr Lane said his office budget, which was "the lowest in the land", would rise from £1.5m to £2m.