Fake army beggar Stewart Fenton died of drug overdose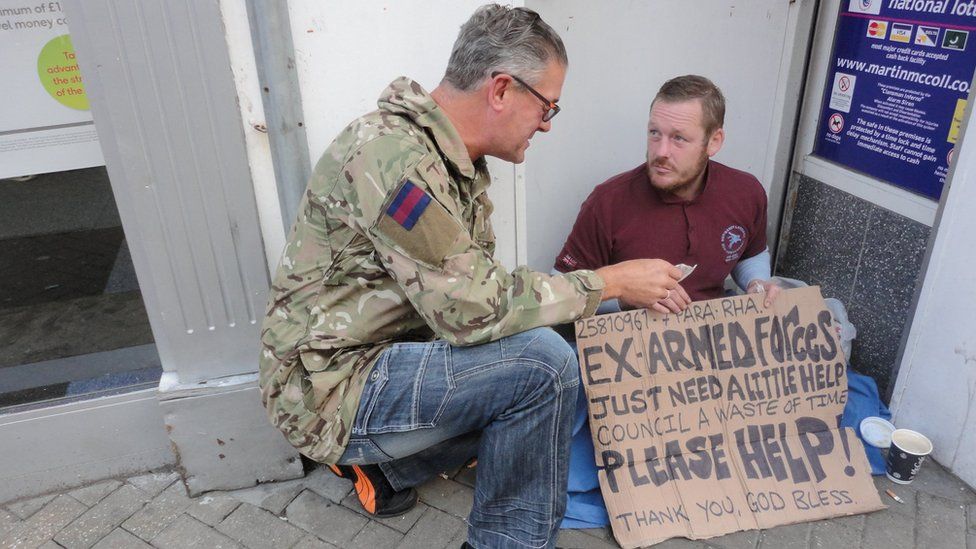 A man who posed as a homeless ex-serviceman to beg for cash died of a drugs overdose, an inquest has heard.
Stewart Fenton used homemade signs claiming he had served in the 7th Paratrooper Regiment as he begged in Weston-super-Mare, Somerset.
He was given a 16-week suspended prison sentence for the fraud in 2016.
The drug addict died in Maidenhead in July after taking a cocktail of heroin and cocaine called a "snowball", after a failed stint in rehab.
Reading Coroner's Court heard Fenton had discharged himself from Yeldall Manor in Hare Hatch, Berkshire, 10 weeks into a 24-week drug rehabilitation programme, telling counsellors he was heading "back to his roots" in Somerset.
He went to the home of Rhona Devlin in Maidenhead later that day where he took snowballs with her and another friend, the hearing was told.
Ms Devlin said in a statement Fenton, 40, had fallen asleep on the sofa but after a while she feared he was no longer breathing.
Paramedics were unable to resuscitate him and he was pronounced dead at the scene.
Coroner Peter Bedford said many recovering addicts find after rehab "their tolerance is lower which can be fatal".
"That seems to me is an explanation of how Mr Fenton tragically came by his death," he concluded.
Related Internet Links
The BBC is not responsible for the content of external sites.