Portsmouth D-Day museum reopens after £5m revamp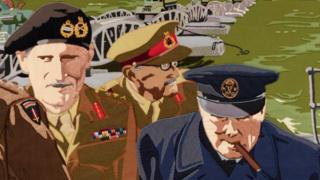 A museum commemorating the Normandy landings has reopened following a £5m revamp.
The D-Day Story, in Portsmouth, formerly the D-Day Museum, closed in March last year.
Work has included conserving items such as its 83m-long (272ft) Overlord Embroidery, which tells the story of D-Day in 34 hand-stitched panels.
Objects that have never been on public display have been exhibited, including the "pencil that started the invasion".
The pencil was used by Lt Cdr John Harmer to sign the order for Force G - the naval forces that went to Gold Beach - to depart for Normandy, a museum spokeswoman said.
He shaved off part of the pencil end to create a flat surface, upon which he wrote: "This pencil started the invasion."
The museum received £4m from the Heritage Lottery Fund for the renovations.
Landing craft and beach armoured recovery vehicles (BARV) have also been conserved as part of the overhaul, with more personal accounts from D-Day veterans added.
Jane Mee, head of museums at Portsmouth City Council, said: "Our aim in transforming the museum was to involve the remaining Normandy veterans in telling their stories and to ensure the D-Day Story maintains the international significance it deserves.
"It also enables new audiences to engage on a personal level with this remarkable event."
Three new exhibition galleries, a cafe and shop have also been created at the museum, which originally opened in 1984.
In June 1944, Allied forces invaded Nazi-occupied France marking the beginning of the end for Adolf Hitler's domination of Europe.
Work at the museum was carried out ahead of the 75th anniversary of D-Day next year when a series of events are planned.