Dead Winchester inmate 'not checked' by prison staff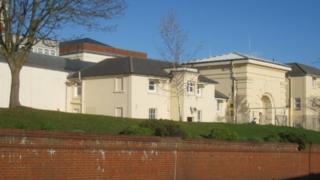 An inmate died of a methadone overdose after prison staff "failed to follow up serious indications that he was unwell", a watchdog has found.
Staff at HMP Winchester "failed to monitor" Jason Payne, 40, who was found unresponsive in his cell in August 2015, a Prisons Ombudsman report said.
They tried to resuscitate Mr Payne "despite clear signs of rigor mortis", the report added.
The Prison Service said staff at Winchester had been retrained.
'Cold to the touch'
Mr Payne, from Farnborough, was prescribed methadone when he was remanded to HMP Winchester on a burglary charge on 12 August 2015.
Four days later his pulse rate was recorded at 125 beats per minute but a nurse took no further action, the report said.
During that evening Mr Payne could not be roused by prison staff who placed him in the recovery position.
The following morning a prison officer found him "cold to the touch" after noticing that he had not moved, two and a half hours after his cell was unlocked.
Mr Payne was confirmed dead by paramedics.
Deputy Prisons Ombudsman Richard Pickering said staff "should have found Mr Payne much earlier on 17 August".
"Mr Payne's well-being was not checked when his cell was unlocked and various further opportunities were missed," he added.
"We are also concerned that resuscitation was attempted when Mr Payne had clearly died."
He recommended that prisoners undergoing drug treatment should be placed in observation cells and should be properly monitored.
Mr Payne, who was originally from North Shields, was one of four inmates who died at Winchester prison in the space of two months.
In a statement, the Prison Service said: "Since this death we have provided staff at HMP Winchester with additional suicide and self-harm prevention training, and introduced more frequent prisoner observations."