Southampton 'paedophile hunter' guilty of false claim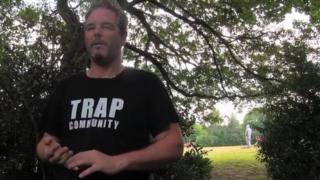 A self-styled "paedophile hunter", whose videos have been watched millions of times by Facebook users, has been convicted of falsely accusing a man of grooming teenagers.
Stephen Dure, 34, also known as Stevie Trap, pleaded guilty to making an improper communication online.
His wrongly-accused victim said he had been sacked and his home had been attacked as a result.
Mr Dure, from Southampton, will be sentenced on Monday.
'Violent psychopath'
The defendant appeared in a BBC Inside Out programme in 2017, when he explained how he posed as children on the internet to "trap" sex offenders.
His Facebook page, which shows videos of him confronting suspected paedophiles, has more than 200,000 followers.
Southampton Magistrates' Court heard he had accused Paul Farhad, 42, of being a "violent psychopath" and a "massive danger to society" in a Facebook post in November 2017.
Mr Farhad, from Eastleigh, said 111,000 people had viewed the message, which he said also implied he was a paedophile.
As a result he lost his job, paint was sprayed on his door and a brick was thrown through his window, he told the court.
Alfred Underwood, defending, said Mr Dure accepted that Mr Farhad was not a paedophile, which was "nowhere suggested" in the Facebook message read out in court.
The victim then produced a screenshot of the post on his mobile phone.
It showed the words "grooming teenagers" had been deleted from the original published message at some stage.
Mr Dure then changed his plea to guilty.
Judge Lorraine Morgan adjourned sentencing, saying she was imposing conditions on Mr Dure's bail "in the light of your lack of frankness".
She ordered the defendant to wear an electronic tag, to observe a curfew and not to use social media.
Outside court, Mr Dure said his online career might be over but his team would continue his work.